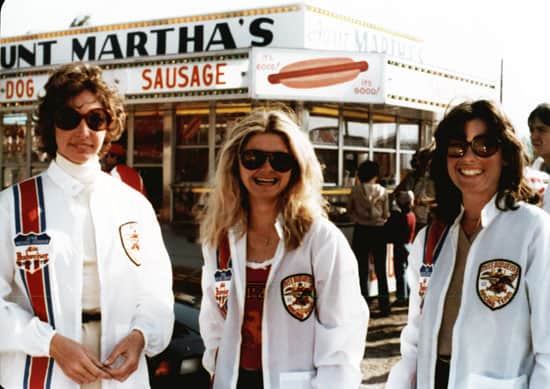 Bonnie, centre, with Janet Guthrie and Lyn St James
Bonnie Henn raced Ferraris and Porsches in IMSA between 1979 and 1985, usually as part of her father, Preston Henn's, team. She and Preston were IMSA's first father-daughter racing team. Her other team-mates included
Kathy Rude
,
Janet Guthrie
and
Desiré Wilson
.
Bonnie's career developed in tandem with her father's. He only began racing two years before she did, having made his money buying disused drive-in cinemas, which he turned into flea markets.
Her first major finish was a seventeenth place at the 1979 Sebring 12 Hours, driving a Ferrari 365 GTB/4 with
Lyn St James
and Janet Guthrie. They were sponsored by Thunderbird Swap Shop, the Henn family business. Bonnie also entered the IMSA Daytona Finale, driving the Ferrari with Hal Sahlman. They were 28th overall, fifteenth in the GTO class. In between, Preston Henn ran an AMC Pacer for Bonnie in the Daytona 6 Hours. She did not finish. The underpowered Pacer must have been a stark contrast to the Ferrari she was more used to.
In contrast to her first season, 1980 was very quiet, as Bonnie concentrated on developing her driving skills. She was linked to a drive in an Alfa Romeo Alfetta in the Daytona 6 Hours, but did not start. The car belonged to Janis Taylor, who drove instead, with Del Russo Taylor.
1981 could have been her first attempt at the Daytona 24 Hours. Preston put together a Swap Shop team of himself, Bonnie, Desiré Wilson and Marty Hinze. Although she had practised in the team's Porsche 935, she decided that she did not have enough experience to tackle the race itself, and stepped down. She did race the 935 at the Daytona Finale in November. Preston was her team-mate. They did not finish.
Desiré Wilson became something of a mentor to Bonnie at this time. She gave her advanced driving tuition and supported her through a part-season in IMSA in 1982. Desiré's race seat with the Swap Shop team was largely down to her work with Bonnie.
Bonnie and Desiré aimed to start 1982 by teaming up again for the Daytona 24 Hours, but Bonnie, along with Janet Guthrie, dropped out. The three worked together again at the Sebring 12 Hours, where they drove a Ferrari 512BB/LM in "Miss Budweiser" colours for North American Racing. For her next race, the Charlotte IMSA round, she shared a Swap Shop Porsche 935 with Preston, and was rewarded with an eleventh place. Her best result of the year was a fourth place in the Daytona 250 Miles. She had jumped into the 935 of Preston and Randy Lanier after her own Swap Shop 935 expired after eight laps.
She raced with Desiré again at Mosport and Road America. At Mosport, she was 24th. Later in the season, she and Preston travelled to Japan to race in the Fuji 6 Hours, in the Ferrari. They crashed out on the tenth lap. At the end of the year, she decided that she no longer wanted to race. Sadly, this meant that Desiré Wilson's place in the team became redundant.
Having announced her retirement once, Bonnie was persuaded back into action in 1983 with an all-female team, led by
Deborah Gregg
and carrying her Brumos colours. The third driver in the team was Kathy Rude. They drove a Porsche 924 Carrera in the Daytona 24 Hours and gave Bonnie her best finish of her career: thirteenth. They were sixth in class. Bonnie's last event with the team was the Sebring 12 Hours. Driving the same car, she was 35th with her two team-mates. After Sebring, she retired for good, aged just 27.
She died suddenly in 2006. She was 49.
(Image from www.lynstjames.com)