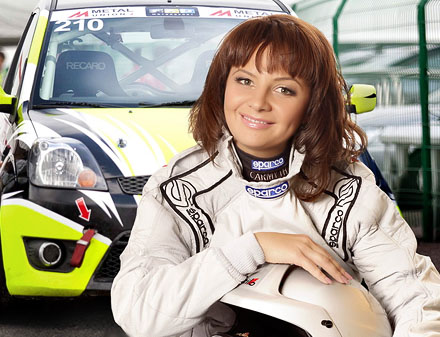 Ksenya Niks is a Ukrainian driver who has raced in the European Touring Car Championship.
She is very unusual for a professional driver, in that she did not start racing until she was over 40, and had had children.
2012 was her debut year, and she raced in the Ukrainian Touring Car Cup. Her car was a Super 1600-spec Ford Fiesta, and she was sixth in the Touring Light class. Her best overall finishes were four fourth places, all achieved at the Chajka circuit in Ukraine, where the championship is based. She also travelled to Georgia in November, for the Rustavi International Challenge. Driving the Fiesta, she was second in two GT Unlimited races, earning a fastest lap in the second.
In only her second season of racing, she moved ip to the European Touring Car Championship.
Her car was a Ford Fiesta run by M-Sport, and she ran in the Super 1600 class. Although she completed the whole season, she was not among the front-runners, and had to settle for ninth in her class, third in the women's standings. Her best result was sixth, at Brno.
As well as her European commitments, Ksenya remained active in the Ukrainian series, in the Fiesta. She competed in the Touring Light and GT Open classes, and did well in the GT Open series, with six second places. Her best finish in the Touring class was fourth. She was second in the GT Open championship, and seventh in Touring Light.
Keeping with the international nature of her 2013 season, she raced some more in Georgia, sampling Legends, and the Georgian GT Unlimited championship. She was fifth in the two-litre Touring class in the Fiesta, with one overall sixth place.
She returned to the ETCC in 2014, and the Super 1600 Fiesta. Her track record improved, and she managed two third places, at Spa and Salzburg. She was fifth in Super 1600, and second in the Ladies' Trophy, behind her team-mate,
Ulrike Krafft
. The only real low point of her season was a DNF at the Slovakiaring, which meant she could not start the second race.
In the Ukrainian Touring Light series, she enjoyed a highly successful year, with two outright wins, three seconds and two third places. Had she done the whole championship, she could have won.
For a change, she raced Legends at Rustavi in Georgia in the spring. She was twelfth in the championship, with one fifth place in a heat as her best result.
Stepping back from ETCC competition, she came back to the Ukrainian GT Open Cup in 2015, for a part-season in the Fiesta. She had a best finish of second, achieved in two races at Chajka. Unfortunately, her two other races ended in non-finishes.
She travelled to Georgia once more, and raced in more Legends events there. Her best finish was fifth again, at Rustavi.
In 2016, she was back in the ETCC, driving a Ford Fiesta for Gena Autosport. She was fifth in the Super 1600 class, with a best finish of fifth, achieved three times at Magny-Cours and Vila Real. This time, she finished ahead of Ulrike Krafft, now driving for a different team. Her focus was solely on European competition this year.
Away from the circuits, Ksenya works as a lawyer. Her plans for 2017 are unclear.
(Image from http://sport.dozor.com.ua)